I spent last week in California – Santa Barbara and Los Angeles.
The primary object was to visit a conference called "Ontrapalooza" – 3 days with a catchy name and it was amazing. But to be honest it was way more business and digital-geeks convention than a music festival. It was great to hear from small (and medium to large) company owners around the globe on their journey, struggles and process.
A wise mentor once told me "if you are the smartest person in the room, you are in the wrong room" – since then I have made it my business to put myself in really smart rooms and listen more than I talk.
It's amazing what you can learn when you are in a room with Coders, CEO's, Quant Traders, and the like. If you get a chance to be around smart people, take it. I didn't understand everything I heard, but some is better than none.
But what really hit me coming home was more observation and emotion than intellect.
You see, I had 2 days to play tourist. Most of the time I spent in the city of LA. The greater city the Five Counties of LA (depending on where you draw the boundary lines) has 18.8 million people. That is a lot bigger than we know here in Sydney or Melbourne. If fact it is not terribly far behind the entire Australian population.
It is a big, wild, diverse city. I really wanted to do a whirlwind tour, so I engaged Uber drivers, the local "bird" electric scooters, and my feet.
Some highlights:
My Iranian Uber Driver/Tour Guide (pictured) was a total legend. If you ever want a tour guide I highly recommend him, buzz me and I will hook you up.
I saw hundreds (there are many thousands) of people living in tents on the footpath.
I saw homes worth well over $100million dollars each in Beverley Hills and Bel Air.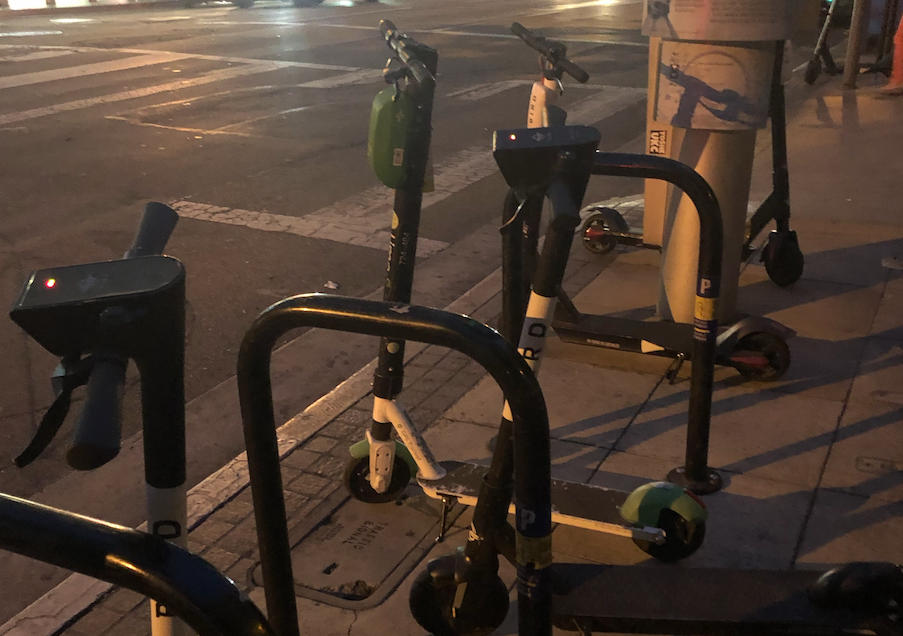 I saw (and smelled) prolific public legal use of Cannabis in downtown LA and Venice Beach.
I heard the roar of 80 thousand football fans as the LA Rams did battle with the 49ers.
I used an app to log in and rode a shared electric scooter (a "bird")along major streets with no helmet and very few rules. I just picked the scooter up on the footpath (sidewalk) and left it in a scooter stand when I was done. (After dancing with LA traffic on 6th St I had one too many near misses – I gave that up pretty quickly and went back to Uber.)
I personally met and spoke with immigrants from Mexico, Philippines, Iran, Poland, China, Nepal; as well as many locals of varying decent. I asked them about race relations. I asked them about the cost of living, the cost of houses, about Trump.
What really struck me is how it is a melting pot. Just massive amounts of diversity. Economic, cultural and experiential.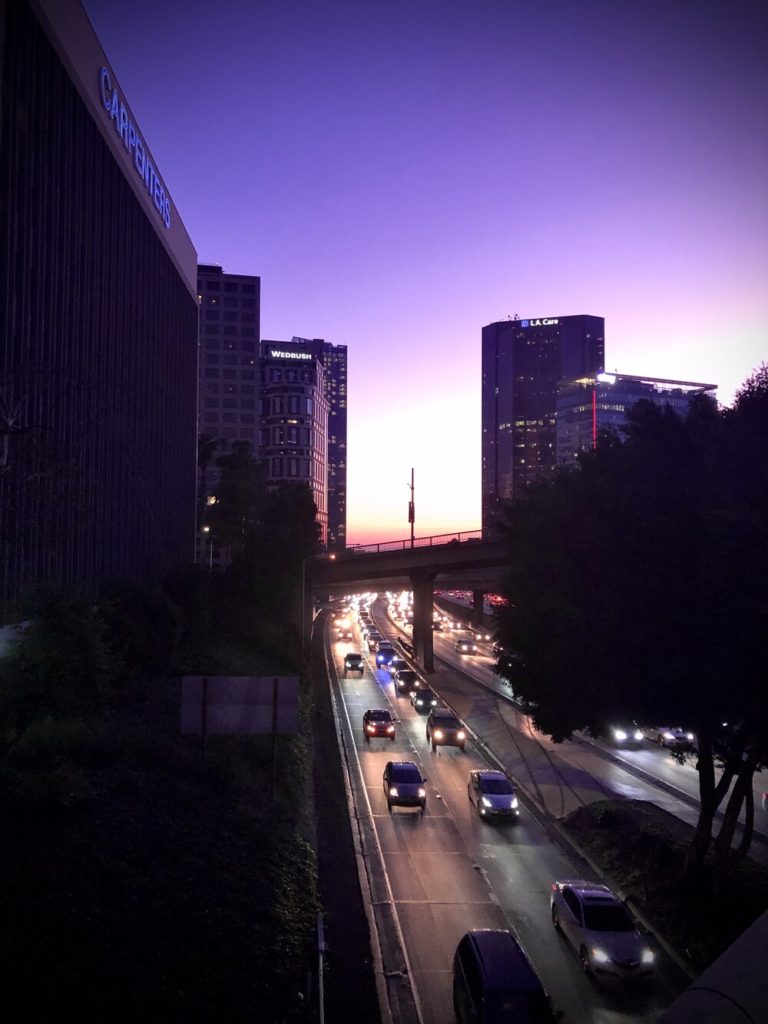 Housing was universally referred to as "expensive" but the response is to share housing more, rent out spare rooms, work remotely further out or be content with smaller spaces closer in. Traffic was of course busy. Scooter riders don't stop for anyone though! (except a sunset pic)
As we left Hollywood drive my Iranian Uber driver said "this place is the heart of America. The movies tell our stories, this is where we feel. New York is the brain, it is where we think to invest" I liked the metaphor.
I walked a section of the downtown near Skid Row, where homelessness is a big issue. It got dark. I realised I didn't feel 100% safe. I wondered how safe the people sleeping rough felt?
I was thankful to meet people who work on Skid Row, including a former Car Salesman named Todd who quit his job to help care for people full time. People really are amazing.
When flew home I couldn't help but remember some conversations I have had this year about Sydney.
I speak with folk from Sydney who say "Sydney is too big and too congested. It couldn't possibly get any busier" or "house prices will never rise, they are already too expensive" "there are poor people in Sydney and they will hold back prices"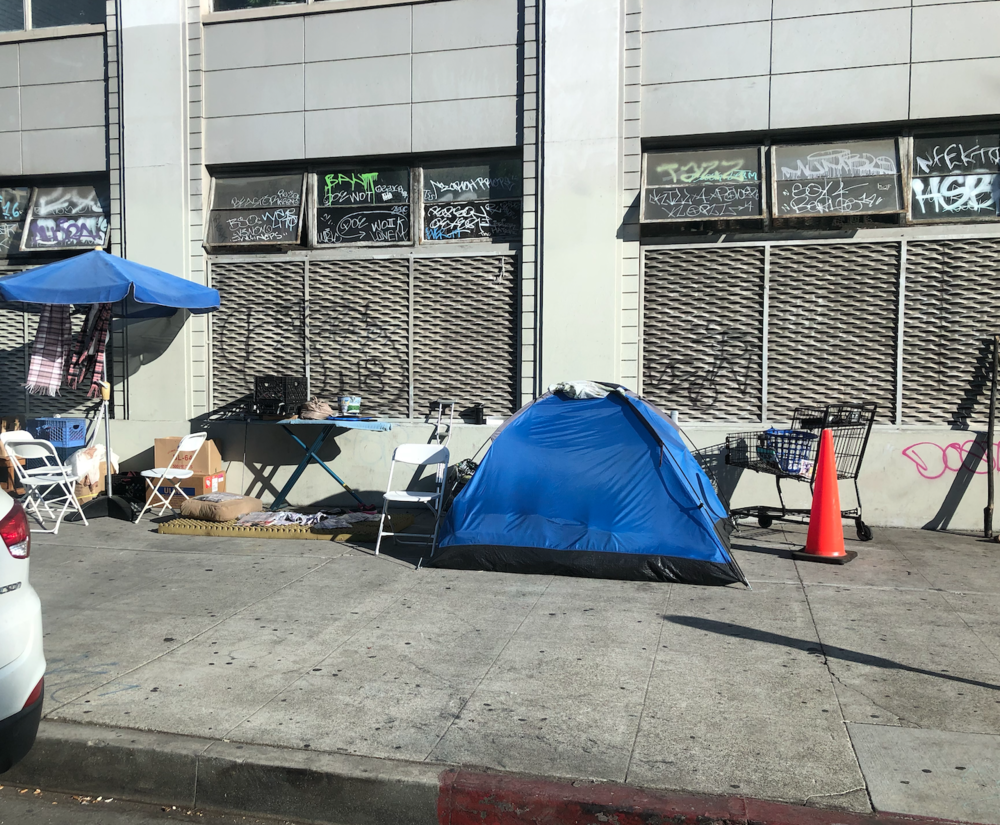 I understand the sentiment, but now I have seen a city 4 times the size, I will stop doubting what is possible. From now on I will think of LA when I think of the future of our cities.
A city that has Skid Row AND Beverley Hills. Tents AND Mansions. Hollywood AND Compton.
I am not saying it's morally just, or right. It just is. What do we do about it to ensure Australia keeps things fair? Lots of things. Volunteering, giving financially, relocating and helping full time, how we vote and how we spend our money and attention all are valuable options.
So… what did LA locals say in response to my questions?
I ashamed to admit I was surprised (but in a good way). People were super friendly, they spoke warmly of other races, and whilst they admitted economic realities were challenging they seemed happy. They even smiled when I asked about Trump. I thought they would either love or hate him but most seemed much more philosophical about his strengths AND weaknesses.
They also seemed incredibly tolerant towards the homelessness issue – admitting that they have the softest laws in the nation so they tend to get more people living on the street who have migrated from the rest of the USA. They don't want to rush in and change these laws or demonise the victims. However they also had no desire to save every homeless person or solve the problem if caused by drugs or alcohol, having a strong belief in personal responsibility, but they didn't sound like they carried any hate or resentment for the poorest ones either. I do note that downtown LA has a high concentration of social and faith based services set up to help the most vulnerable. I do NOT claim to have any answers to this very large and complex issue.
Funnily enough I filtered much of this through conversations with my uber drivers. I liked one of them so much I hired him to drive me around the next day which he happily did. Being Iranian we had wonderful historical conversations about the ancient Persian empire, king Cyrus being one of the most impressive leaders in ancient history and the rise and fall of various people groups over time. We talked about what it would look like for a global leader with empathy to succeed economically AND ethically.
Food for thought.
What about the real estate market in LA now?
It goes without saying. Prices in LA are high, of course.
But also wildly variable. From several hundred thousand for smaller properties in rough/cheap outer suburban areas through to high. All the way high…
A quick search on Zillow finds a max entry point HERE of $195m (yes that is 195 Million) which is $284.3 million when converted to AUD.
AND 27 homes OVER $50 million USD on the local market to choose from.
AND 365 homes over $10m USD Here is an example.
If people keep flowing from the rest of the world to these hubs of diversity and opportunity then the growth will continue. So will the growing pains but the need for housing isn't going to end. Even when LA weather is good enough to sleep under the stars. Constraints to supply is the drum I have been banging for years with regards to property investment returns, I believe it even more now having driven the streets of Beverley Hills.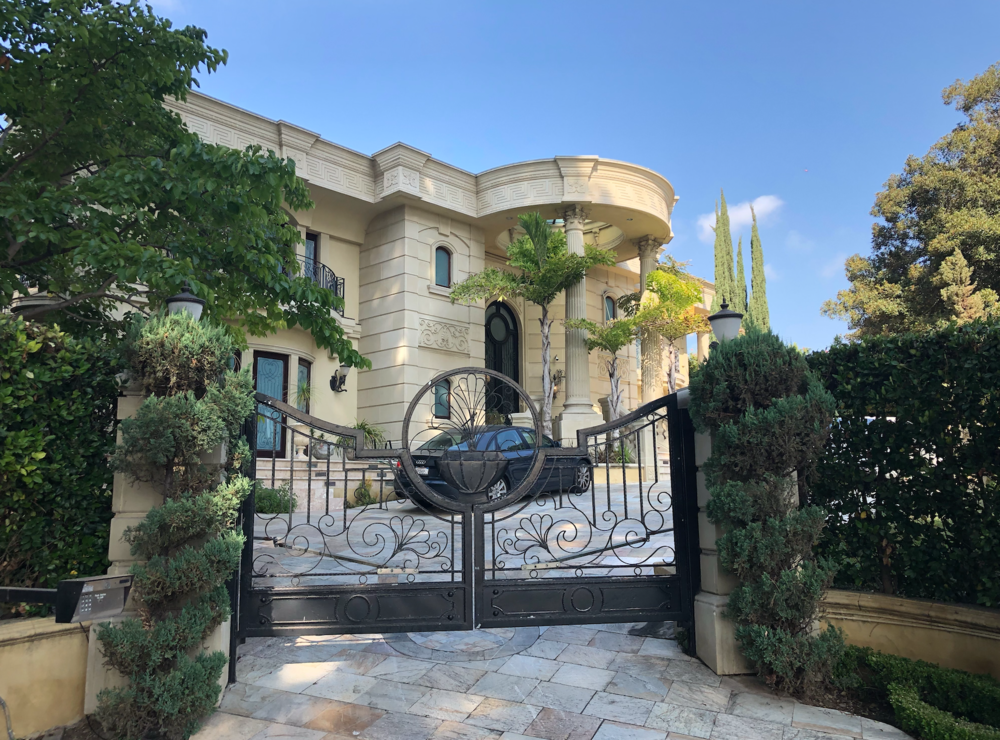 BTW – How do the ultra rich feel about us? Give THIS sale last week in Barangaroo of $140million AUD for a penthouse apartment, at least someone is feeling pretty confident. 3 recent rate cuts leading to record low interest costs and the broader market is a vastly different place than it was early in 2019.
Are we going the way of LA? I don't know but I have a feeling people will be attracted from across the seas to places like LA, and like Oz for many years to come. As we globalise the dream of a better life is alive and well. It will sure be interesting.