DISCLAIMER:
I have been getting asked to predict the housing market.
I don't like doing it at the best of times. How about right now?
"Sure easy…"
(Jokes – it is more like "gulp" or "double gulp")
This post is designed to offer notes for potential property buyers who are trying to make sense of things. Obviously not financial advice. I try to reference the sources where possible. Writing it sent me down several rabbit trails and the links are there for you if you want to follow. Educating yourself is always a good thing.
THINGS ARE MOVING FAST:
Last month's blog entitled "COVID, Toilet Paper and the Property Market" (only written 2 weeks ago) touched on COVID19 and our property markets. So much has changed in so little time!
Social rules and employment norms have been changing rapidly in recent weeks. A mixture of humour, fear, and denial is giving way to deep concern and we are currently in various states of isolation in our homes and only allowed out for essential purposes. At the same time, unprecedented government stimulus and benefits are also being periodically rolled out to underpin asset prices, family budgets, and the economy at large.
TRANSACTIONS ARE STILL HAPPENING:
At the time of writing open homes and auctions are banned. However private treaty house inspections are allowed in NSW, which means houses are still selling. This impacts the process of how to buy but not really the outcome. See this article in Domain.
So, today properties can be bought and sold right now. If a higher level of lockdown is implemented it could put a total temporary stop to transactions. This is likely to be short term if it does happen, but it COULD happen.
THE MARKET:
Auction clearance rates are a useless metric when they are outlawed. We need to look at the underlying supply and demand stats. For now I will stick to stock and prices.
Stock is low. I track stock levels all the time. It's low. I won't bore you with 20 graphs. If you want to know more just ask me. This has (thus far) put a floor under prices. Read more here.
Price-wise so far the data shows little impact. March prices GREW (!) 0.7% for the month across the nation see link above. Coming months will tell us more about whether market-wide falls are occurring. Source for the stat & the image below here.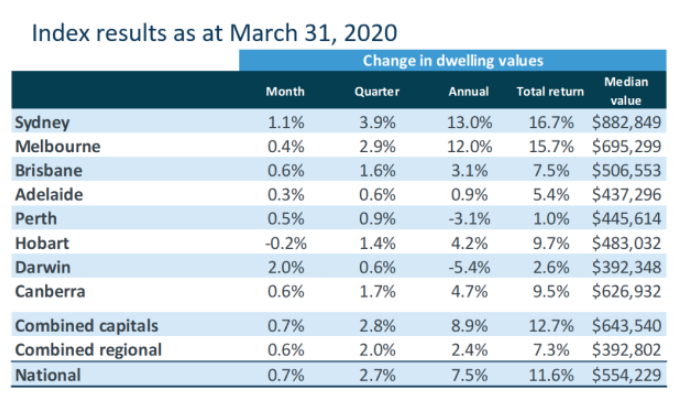 ANALYSIS & PREDICTION (not mine):
Louis Christopher is one voice. His opinion as at the end, read on.
Peter Switzer is regarded by many as one authority. I have been following him for 10 years or more. He makes a house price prediction also posted further down this article.
Last week Switzer quoted Christopher Joye of Coolibah Capital saying he had a very smart team of financial analysts. Joye and his team have done some of the most advanced modelling of the Coronavirus available – if you have time read it here.
For some time now I have considered Christopher Joye the smartest financial mind in Australia.
Some take-home bits from his recent articles:
Once peak virus has been met and virus rate reductions are consistently demonstrated people's fear reduces. Market confidence begins to be restored.
Peak Virus in Australia is predicted early April. In the US it is modelled as a few weeks to perhaps a month further behind. Bill Gates is strongly advising a national shut down which would speed containment. If state by state lockdowns fail to contain things it could result in the peak being delayed. The US is a big and complicated place and I don't claim to understand how to manage a pandemic there. (who am I kidding – anywhere… shout out to all the doctors and our political leaders working overtime right now!)
The faster the US begins recovery the faster the world feels hope. This will see markets improve everywhere. Stockbrokers have feelings too.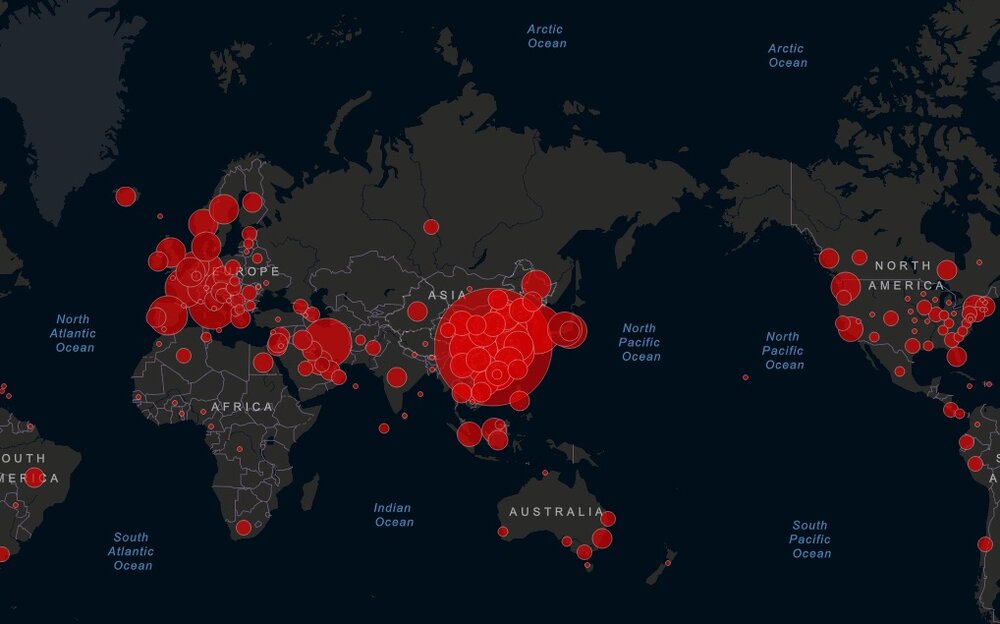 Getting back to Australia, it is possible we have just reached/passed peak virus if you go by the daily new infection rate as tracked here as you can see we are no longer doubling every 3 days. Probably a little early to tell but promising signs thus far.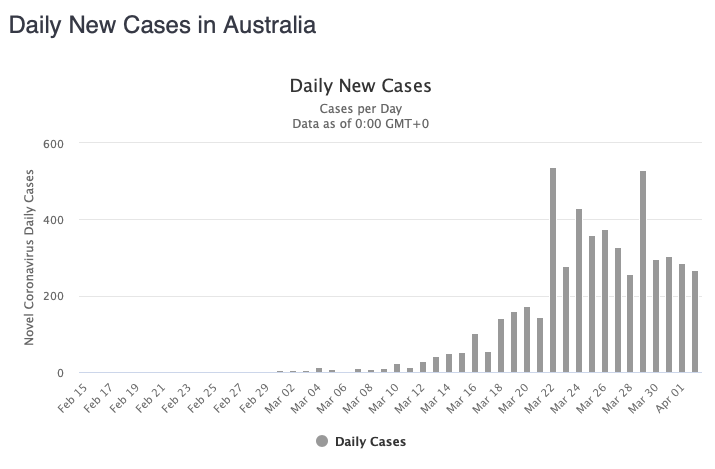 ECONOMIC STIMULUS
Australia's stimulus and support package are regarded by Joye as good. Very good.
"As foreshadowed in my last AFR column, the RBA has delivered precisely the optimal policy package for combatting the worst demand-side crisis since the second world war. As a starting point, it is perfectly designed – huge congratulations must go to APRA's Wayne Byres, the RBA's Phil Lowe and Guy Debelle, and Treasurer Josh Frydenberg and Prime Minister Scott Morrison." Source
Our banking sector is quite strong. No need for further commentary here, it is done to death in other locations.
And yet there is more that can be done to manage the economic winter. As you can see Joye is up beat and willing to give praise but also critical when he feels it is warranted.
WHAT THIS MEANS:
A strong banking sector, a generous set of Govt. policies and sustained low interest rates for the foreseeable future will limit house price reductions to less than people think. Once the worst is over we will even see significant price growth from all the stimulus.
BUT WAIT…
The above will not be true everywhere.
WHAT WILL HAPPEN IN MY STREET?
Many who do not need to sell are shelving plans indefinitely. This means stock is very low (I already said that right?).
This means buyers only have a few homes to choose from.
This month (and for the next few) there are less buyers due to job uncertainty in many industries. A surprising number of people still have jobs and can still buy houses. Some of them will.
Some vendors who NEED to sell will sell. They will discount the most on price if they are in a hurry.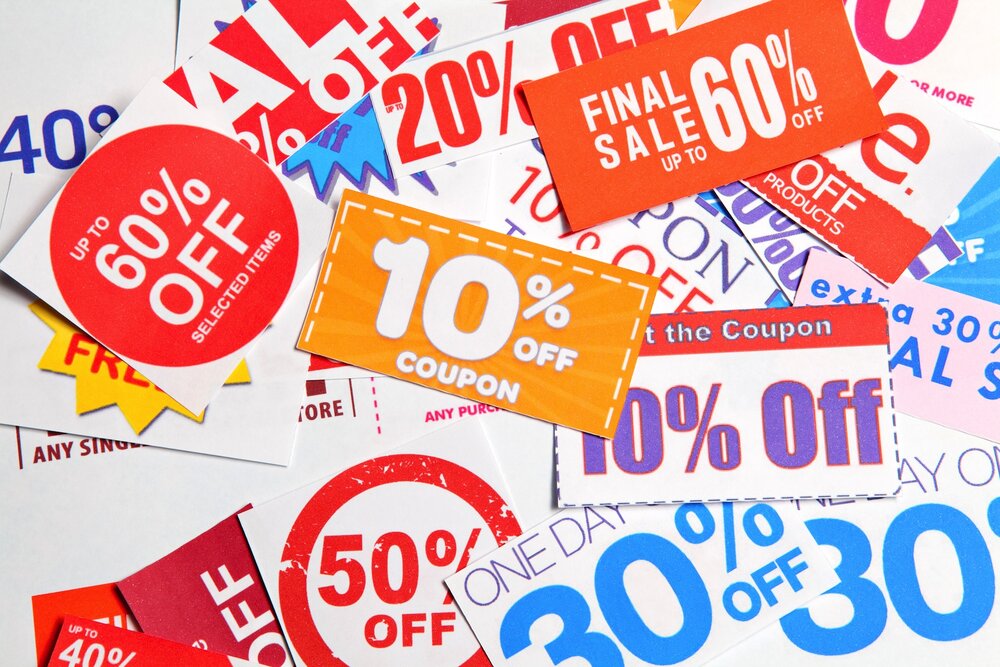 Some bargains will be purchased at 10% or 20% under expectations. Possibly more. As I type I am currently negotiating in one of these markets and the vendor has just agreed to a 16% price reduction. The median vendor discount is 4% in this area and falling. On this price with current rents, we would be around 6% gross yield. Several months ago this would have been unheard of in that town.
Will median house prices in some, even many suburbs be hit? Yes.
THE BAD – WHERE:
One would have to logically conclude that those areas with the greatest exposure to unemployment, to international business conditions, entertainment/events and international tourism will be hit the hardest.
Ultra premium property is another suburb type that often swings wildly at times like this as entrepreneurs take massive hits on the stock market.
Investor dominated markets could suffer as some owners look to offload less essential assets / protect the family home.
THE GOOD – WHERE:
Homebuyer, owner-occupied and affordable markets could do surprisingly well. If you are buying for yourself to use – and have long term plans, then you may well decide this is your time. I have heard this line from multiple buyers who have jobs and plan to proceed this month to make a home purchase.
Some key areas will also be much less impacted as construction and government-backed infrastructure keeps going and jobs/vacancies/housing markets remain tight.
There are residential markets with vacancy rates under 1%. These are the safest areas to be a landlord in 2020.
Today I spoke with a property manager (450 homes in a regional town) & asked how he was doing with tenants this week. (if you know a property manager – give them some love this week, they need it)
He shocked me. He said he has had 2 tenants claim hardship under Coronavirus. 2. What is more 1 of them is a chronic late payer who was already before the tribunal. That means today in his town precisely 1 out of 450 tenancies is currently impacted by Coronavirus).
Some areas will obviously be different to this, but I think it important to note that not all suburbs are in dire straights today. Even if our capital city CBD's, Restaurant hotspots and Casino hubs are deserted, there may be regional pockets that do well.
The few investors who want to buy real estate (some have exited the stock market for property for example) will do best if they target these areas.
HISTORY – DOES IT REPEAT?
The general property argument is that historically property has fared better than other asset classes in a range of economic shocks in history. House prices have even risen in some previous stock market crashes and recessions. Read more on this here.
IS THIS DIFFERENT?
Will this time be the same? Are we headed for a decades long depression? The nature of the pandemic and the lack of clarity around timeframes makes it very hard to say. We know the virus is treatable. We know there will be a rebound at some point. We don't know how long our economy will be held back or how deep the impact of unemployment will be.
For what it is worth, the likes of Switzer and Joye are indicating no mass property crash. Switzers's team are leaning towards a 5-10% temporary fall until conditions and sentiment improve with a recovery bolstered by generous lending conditions. As stated, individual properties will sell lower when motivated vendors panic.
Louis Christopher was more bullish. In a text message sent to an agent (I don't have permission to name who) he penned the following: "Once case numbers peak, we are off to the races as a real estate industry. With all the stimulus out there never seen before, this marketplace will explode" (for fairness to Louis a shortened version of this quote is also found in this article so I don't think it was a secret).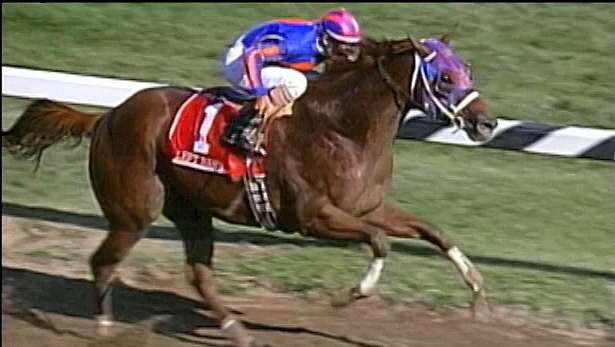 SO WILL HOUSE PRICES FALL?
In the short term, possibly. As stated, some suburbs will measure worse, some better. Long term… (if you believe the likes of Switzer, Christopher and Joye) many areas are likely to run up in price on the back of the recovery. When exactly? That is the question.
Will you be ready?
For anyone unsure of their next move – whether buying, selling or holding… we are currently offering brief support calls for FREE or an in depth review for an hourly rate.