Forgive me if I get a bit esoteric this month, but… it's Christmas. And as I type ash and embers are falling like snow on the back deck and we are watching the Currowan Fire phase 2. Massive shout out to the legends fighting them on the front lines!
I already wet the plants around the house and there is nothing else to do so for whatever reason it feels right to just type.
I spent the last few weeks reflecting on the year that 2019 was. What worked, what was tough (remember the Royal Commission feels?) and what I want to focus on in 2020.
HERE IS A VERY RANDOM AND POORLY THOUGHT OUT TOP 10 FOR ME THIS YEAR:
1 My kids thrived at home and at school. They received more awards and better grades than I ever got at their age. Not quite sure how that happened but I'll take it.
2 Despite a tumultuous time with the Royal Commission and the federal election Precium survived without taking on debt or other drastic measures and we had a great end to the year which made up for a tough start.
3 I had a blast in Melbourne for the REBAA AGM, & ended up elected as the National Regional Representative – a huge honour. Am now loving spending time with the nation's most experienced BA's and taking a very minor leadership role to help the industry and raise the bar for consumers.
4 I went on 2 short camping trips with 2 of my best friends (and their awesome kids) who I don't see anywhere near often enough but we found the time. Thanks lads the campfire time was golden.
5 I worked with a number of my amazing repeat clients. I am truly grateful for them and their trust.
6 I met some amazing new clients, received a number of 5 star reviews and the kind of feedback that keeps you in the game. I honestly just love having ultra happy people at the end of each deal.
7 Bought my kids a puppy – may not sound like much but they have been asking with great persistence (& I have been wanting) for years and we felt the time was right. This summer will be a steep learning curve, all about dog training!
8 Connected, laughed, cried, served, listened and at times even practiced my patience muscle (as I am sure they did with me) within my local school P&C and spiritual community groups that I am a part of.
9 Learnt loads, met some amazing people and felt the energy of amazing city in Los Angeles when I travelled there for a conference in October.
10 Saw my local township rise to support each other incredibly well in the wage of serious bushfires. Inspiring is a cliched word but it fits when your homeless friends are housed, your RFS friends are going above/beyond and the street is checking on neighbours as the fire approached.
WHAT WERE YOURS?
I am honestly interested so if you feel like send me a list, I would love to see it.
Matt, enough with the dear diary… what about real estate! Can you give us a market update?
After a genuinely busy few weeks I am happy to report that a number of quality deals were closed before Christmas. Finance appears to be getting easier finally (with the big 4 banks being the worst and slowest still).
I was surprised this month in both directions about finance. Once was how badly ANZ performed when they took 4 weeks (post valuation) to complete a loan for a perfectly solid borrower, and then I was surprised how fast a smaller lender approved a similar looking deal in less than 48 hrs.
Clients are doing more online research than ever before and coming in highly educated to address their lack of trust in agents. This is good. Buyer education is always good.
In fact had several new clients ring and lead with the line "we already checked you out from 4 different angles online, read all the reviews and looked for complaints….your reviews stack up, you are going to be our BA"
Which is really nice because then we can forget the sales pitch and just talk strategy.
The summary of the 2nd half of 2019 was this… the coastal NSW market returned to a sense of normal. Locals and relocates have been buying again for 3-6 months. Investors are buying again just in the last 1-2 months and seem to be the last ones back to the table this year.
Stock was low.
Really low.
This meant prices didn't fall beyond the bottom that formed in around March (combo of pre-election jitters on top of the R.C. and already tough borrowing)
Basically vendors who did not need to sell, didn't list their properties. Equals more buyers for each home. Equals a floor under prices.
See the 3 graphs attached for random south coast suburbs and the price rises seen in the last 3-4 months and you will understand what I mean.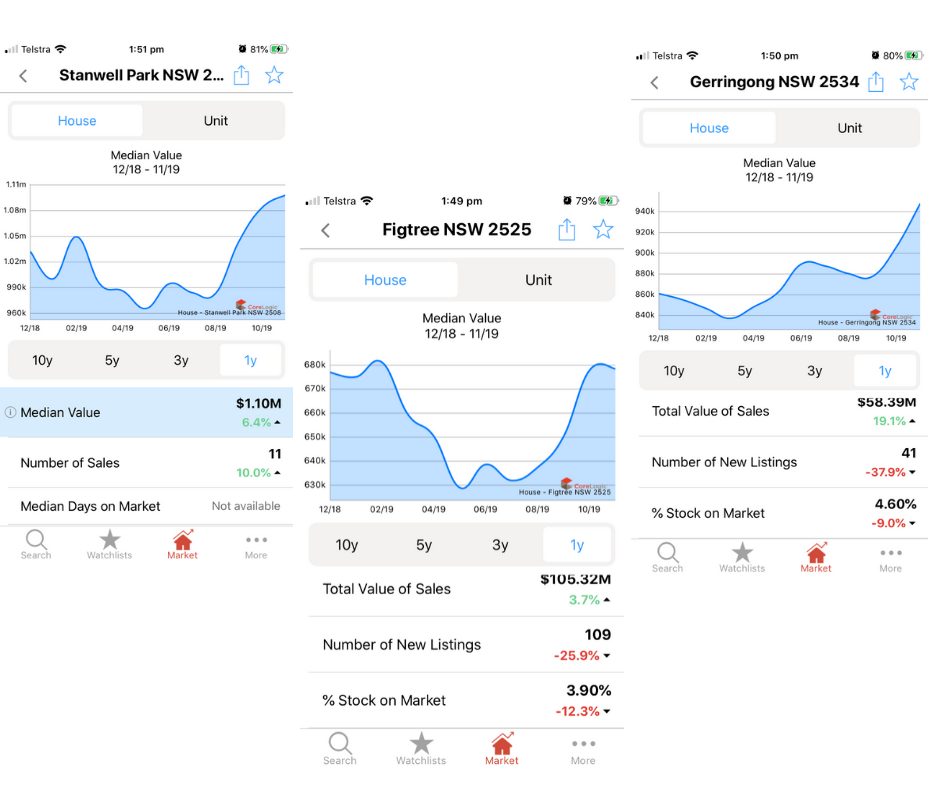 When you understand that these graphs are a few weeks or months old in how the market actually moves and behaves you will get my drift. The dip seems well and truly over.
Example: 2 weeks ago I tried to buy a really solid, ugly brick renovation project in Wollongong. I was beaten on price and by 3 other offers. The veteran agent and I were both surprised at the strength of the offers that came in over the top of our conservative but fair price. 3 months ago we were the only buyer on these properties and vendors were grateful for our offer. It seems the market run is already underway.
The reduction to the servicing rate, plus 2 rate cuts have made a drastic change to the cost of finance. The deals I did complete in recent months were a combination of holiday/relocation homes, dual income investments and future development sites.
Demographic trends haven't changed. As I have suggested for a long time they are the safer trends to bet on because they change slowly, and people are mostly predictable.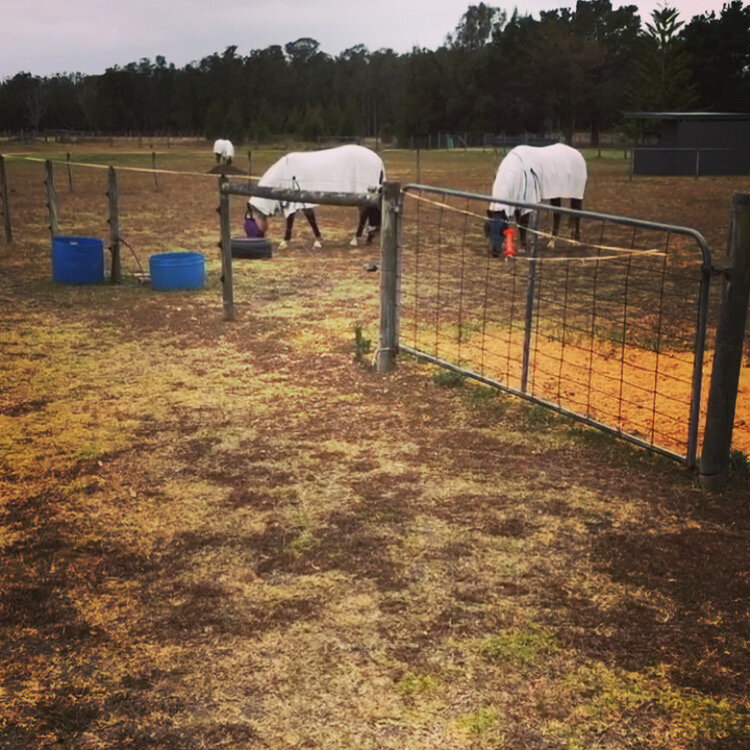 First homebuyers are still looking for a way to get into the market.

Families are still upgrading/relocating in line with work and lifestyle goals.
Boomers and younger digital nomads are still buying beach houses as they tell me they just don't want to be in the city any more. Water views are still king. Single level 4×2 homes on 600sqm plus blocks are as popular as ever. 5 acre Horse properties with the right facilities are selling strongly o all those equine enthusiasts with $.
Investors are still looking for good deals and coming back to the table (albeit they have been nervous having had more trouble obtaining finance this year)
These trends are well established and likely to continue for the decade ahead. People still need a house. Those keen to stay in the city will find a way to afford it. Those who want to leave will keep looking for greener pastures, cheaper prices and cleaner air. People do what people do. Not what the newspaper says.
So what do I see for 2020?
With low interest rates likely for the year ahead I can't see any more downside in the market. Growth is on again. I won't hazard a guess as to how much but quality assets in high demand locations with strong rental returns and large land content will always outperform. Areas with constrained housing supply and new infrastructure projects are my favourite of all. This is what I target for my buyers for that reason. Limit your downsides, stack the odds in your favour and let the upside take care of itself. If you can buy well and build some equity in through doing a renovation or development, even better.
Following infrastructure spending is a way of looking forward, not in the rear vision mirror.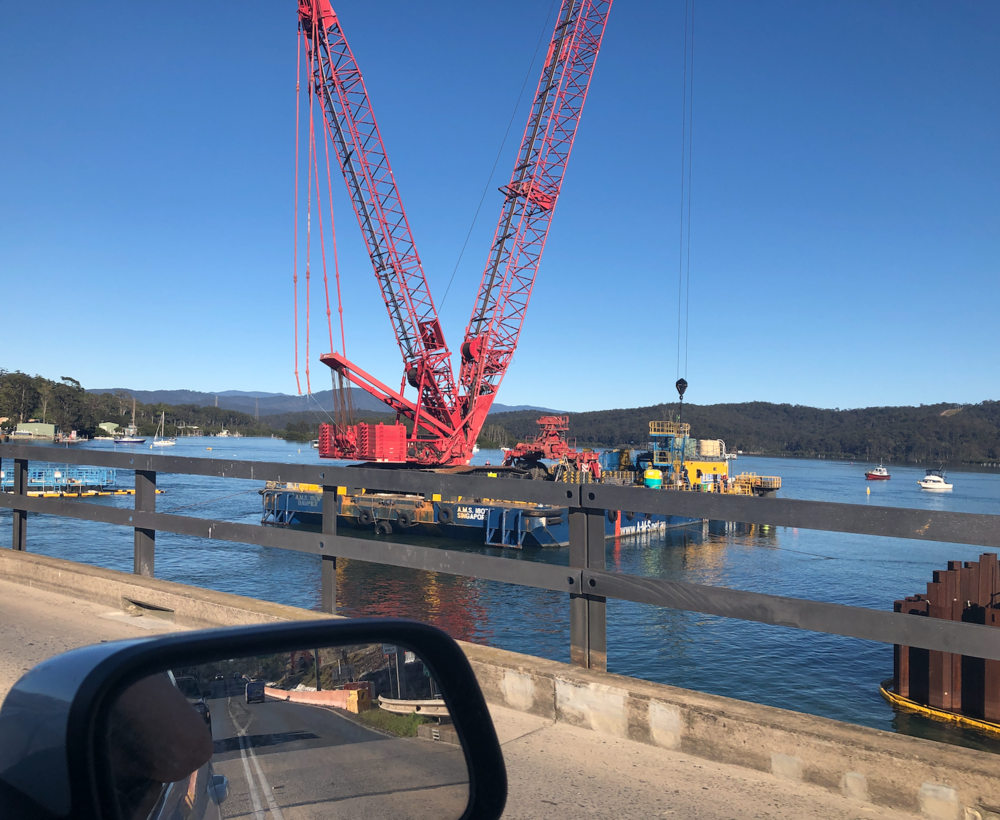 Should you buy property now? That, of course, is entirely up to you.

Is it a good time to buy property now? Well with the election well and truly behind us, & the national property policy platform much more stable, and finance getting easier… I still believe the old chestnut, the best time to buy a house is 20 yrs ago. The 2nd best time is now.
Either way, here is me wishing you a very Merry Christmas and a happy new year.