Last year I lost some friends. They left town traumatised by the crazy rental market.
A family with two incomes, one teenager, community minded, involved in the local P&C. Flawless rental history, great references.
Like many beach homes on the South Coast of NSW their landlord wanted the house back when the lease ended. Every time they looked for property to rent they high brick wall after brick wall. They applied at all the local real estate offices, nothing available. When a home would finally list, it was swamped with 30-40 applications every time.
Stress levels rose, as they rapidly approached actual homelessness. After months of concerted effort and a bunch of us ringing our networks trying to help this family stay in the town they finally secured a rental through a friend of a friend. Phew.
The process was so upsetting – what if it happened again? To avoid the revolving door they ended up deciding to move interstate and buy something. The regional area they chose meant they could cease being renters and buy a family home for around a quarter of the price they would pay on the South Coast. One quarter of the cost. Who can blame them?
Somehow I feel like our town has lost something. Sadly the story isn't isolated.
Since that happened, and for the entire duration of 2021 I watched rental markets like a hawk. Every investment I purchased for a client exceeded cashflow expectations, meaning they commanded a premium above our rent estimates. Historic data lagged as rents rose faster than I have ever seen. Great for new owners, not so much tenants.
Most trends in Australian property market are fairly predictable. Even the growth years. Not the last 2 years. Covid caused a number of wrinkles in the market that literally nobody predicted.
The most critical one to understand (whether you are a tenant or landlord) is the drastic change that happened to our rental market since COVID.
Vacancy Rate is very important but under reported metric. It is like the canary in the coal mine – a great indicator of the underlying health of the economy in a local area.
It is measured by taking the number of homes available and advertised to rent in any given suburb versus total rental stock. Expressed as a percentage with "normal" between 2-3%. Remember around 30% of homes are rentals, as 70% are lived in by owners. If we imagine a suburb of 1000 homes (let's call it "rentville"), we can assume 300 are rentals, and if 3 are vacant today, the rate is 1%. If 30 are vacant its 10%.
The lower the number, the tighter the rental situation (fewer spare homes, lots of competition between tenants). An average number where rental prices are stable or growing just slightly is around 2.5%. Above 3% I consider soft (lots of vacant rental ads and falling rents) below this is tight (rising rents). Below 1.5% is normally considered very tight and rents grow well above inflation at this level.
Nationwide we sit at 1.1% today – half our pre COVID levels. The last time we had a nationwide vacancy rate that low was 2006. See the trend below.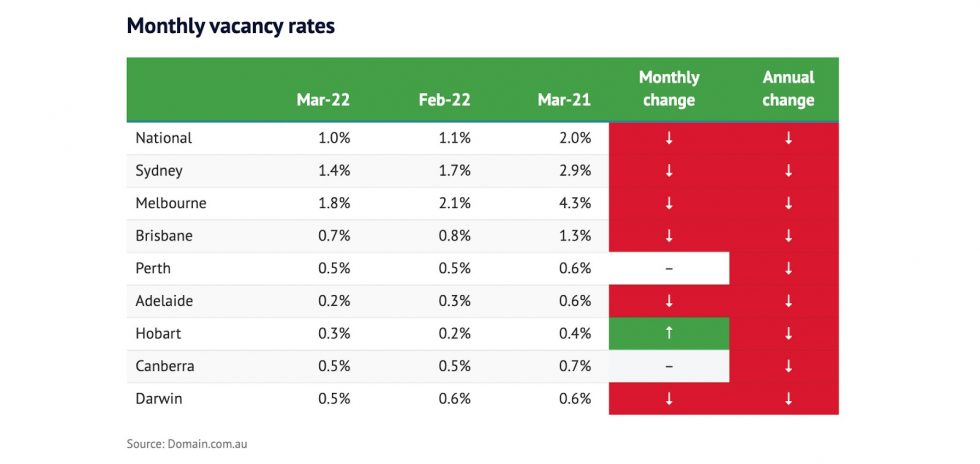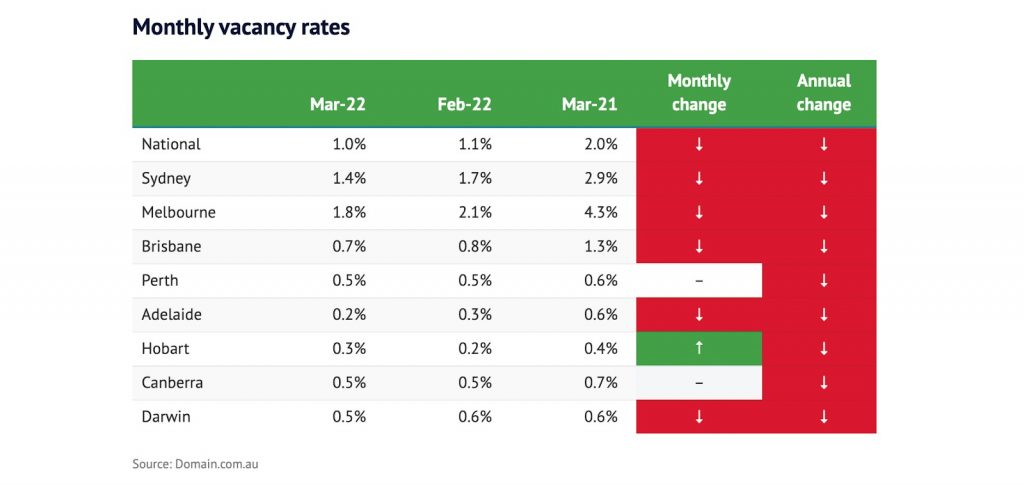 But in the absence of a population boom (as international borders were closed) what happened internally during the 2 years of COVID? How did our rental markets evolve?
In short, masses fled the city for… everywhere else.
Sydney and Melbourne – our two biggest cities had vacancy spikes during covid. The vacancy rates grew from 2.9% (Syd) to 4% and 1.9% (Melb) to 4.7%. People fled the city lockdowns in the great regional escape was seen most clearly with Melbourne who had the worst and longest restrictions.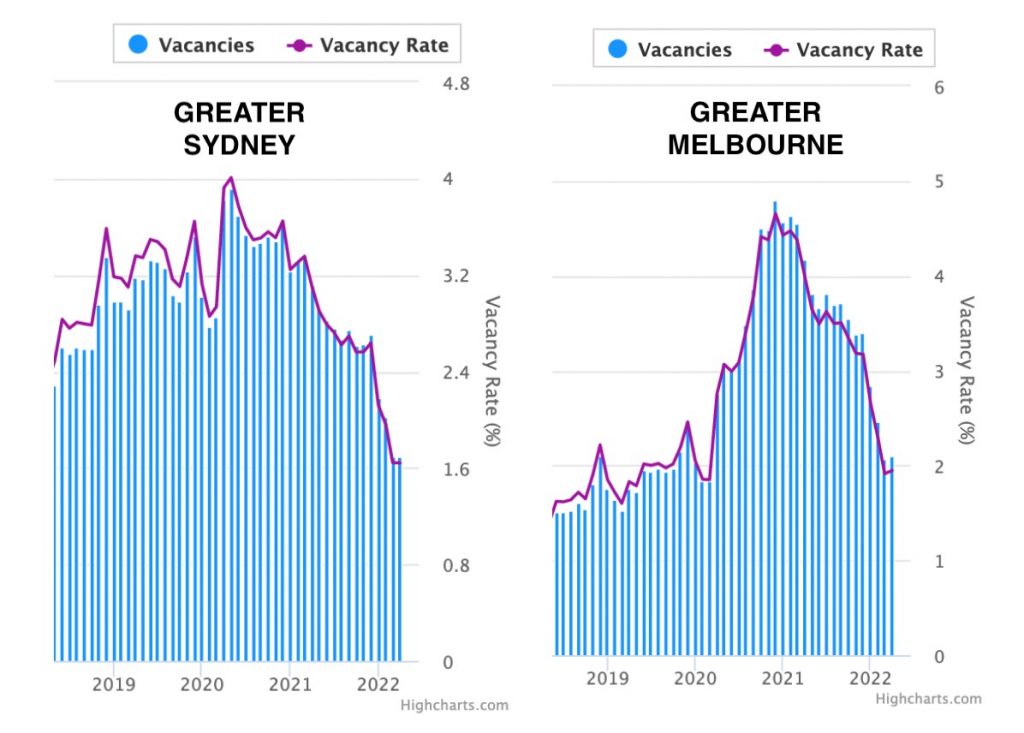 Bernard Salt called these people VESPAs, the Virus Escapees Seeking Provincial Australia. A catchy name indeed. As you can see after 2 years this peak is normalising. Some people are returning to our cities.
Sydney just fell to 1.6% (a number last seen in 2017) and Melbourne just fell to 1.9% (equal to it's feb 2020 level). Not ultra tight compared to the rest of Australia but certainly not soft as they were and back to historical norms.
But there is a big problem just using the city wide metric – it is deceiving.
Individual suburbs did better and worse than this metro average. The inner city did much worse and outer suburbs much better.
Sydney CBD spiked at a massive 16.4% vacancy. That is a hideous number. The kind you normally see in a mining town after the mine is shut and everyone leaves. Ghost town status. Melbourne hit 10.8%. A casual check of more inner ring suburbs of both cities confirms the damage.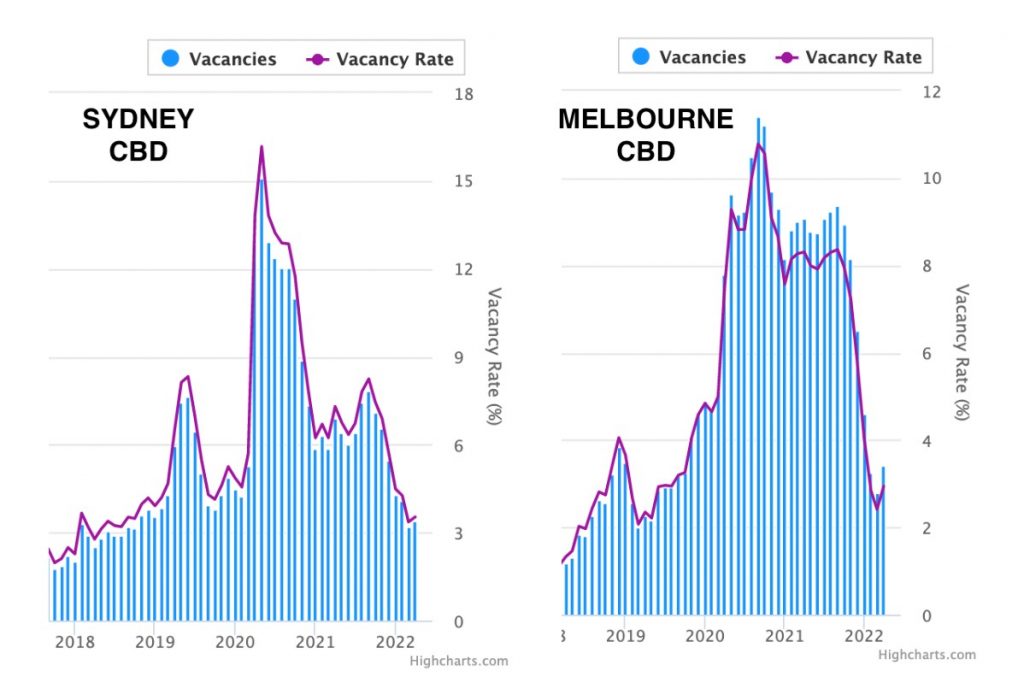 Outer suburbs full of family homes were much more stable. Vacancy rates barely moved. So the exodus was most extreme in the inner ring suburbs.
The problem is an outer suburb with rental homes at median prices remained very tight, whilst inner city units were soft. A renting family isn't likely to move into the CBD apartment just because it is available if it completely unsuitable for their lifestyle. The average statistic hides the stress of the family renting a 3 or 4 bed home who are going to suffer the most in this next stage. Rents have been rising in outer suburbia and the pain is being felt.
Meanwhile regional vacancies are even more extreme. Nationwide regionals fell since 2020 to incredibly tight levels. Many below 0.5%% which is actually very hard to imagine unless you have seen it first hand.
Remember our example suburb "Rentville" with 1000 homes and 300 rentals? In between a vacancy rate of 0.1% to 0.4% there is either 0 or 1 home to rent at any given time.
Imagine you are a tenant – your lease ends and you are given notice… there are simply no homes to choose from and the next town is likely over an hour away so you can't really commute. If homes are advertised in your town there are 50-80 enquires and probably 20-30 applications, and your record had better be flawless if you want a chance at being the successful applicant. Try applying for 10 homes and failing. That is what it feels like to rent in an ultra low vacancy environment.
Here are some examples of how tight rentals got on the NSW South Coast and Regional in the last 2 years. Nationwide examples abound – these are not unique
Bulli 0.0%
Cooma 0.0%
Jindabyne 0.1%
Nowra 0.1%.
Warilla 0.1%
Orange 0.1%
Ulladulla 0.2%
Moss Vale 0.2%
Kiama 0.3%
Wagga Wagga 0.3%
Albury 0.3%
Dubbo 0.4%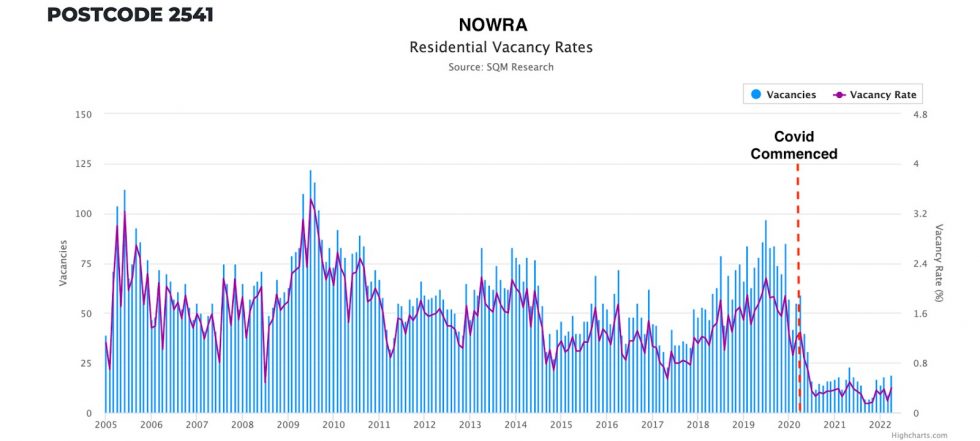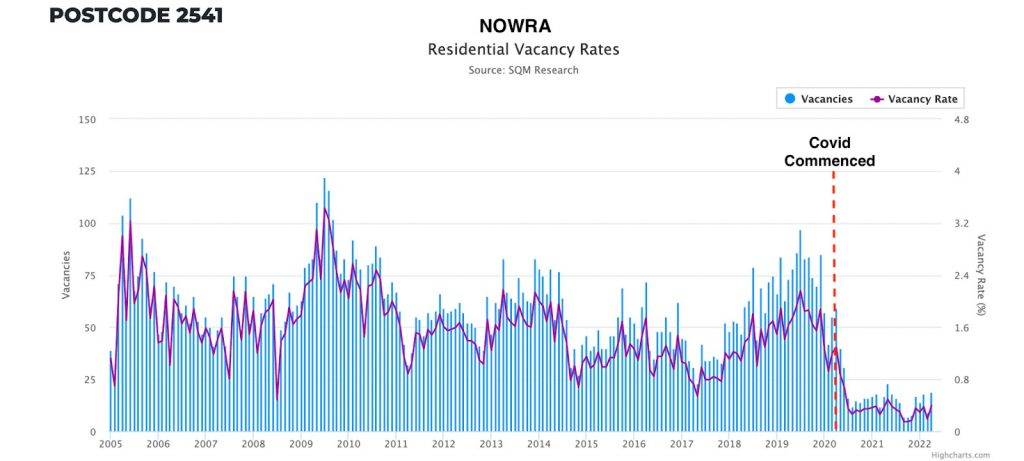 So what does this mean? It is entirely possible that the desire for more space, a better work/life balance, working partially from home, sea change and green change phenomenon will result in a permanent shift to regional areas.
This would mean regional areas need to provide better infrastructure and more housing to cope with the uplift in demand.
It means the rent price elevator is going up. It means the media will be filled with stories of rent stress in the year ahead as there is no way wages can grow fast enough.
It means this isn't isolated to just one part of the country. Regionals and cities across the nation will have growing rents with very few exceptions. Sydney and Melbourne less dramatically but yes some growth on the horizon for them too.
It means despite all the doom and gloom about rising rates and possible crashing prices – if you are a property investor there has never been a better time to capitalise on strengthening cash flow opportunities. For investors, yields are about to improve.
It means regional housing markets might just surprise many who are calling for a crash. The underlying fundamentals are incredibly strong especially for areas that had less growth and have these tight rental markets.
It means if you are renting, pay your rent on time so you don't give the landlord any ideas. If the rent goes up, by all means negotiate but check how many options you have before you burn your bridges.
If you do have the chance to buy a home now might be a good time to exit the rental pool for your own sanity if nothing else. Even if it is in another town or interstate.