If you are a property investor, then perhaps you felt it… (Warning Rant ahead)
it was like being under a dark cloud, with the threat of a big stick (possibly hidden in that cloud) for all of 2018.
The royal commission hung over property markets and the finance industry all year. Buyer's worried finance would dry up altogether further turning the screws on property markets. The media lapped it up, called for armageddon and coined catchy phrases like FOMO, FOBO and FONGO.
To be fair, Sydney and Melbourne needed a correction, they had years of double digit growth which was never sustainable. It happens at the end of every. single. boom. cycle. We knew it was coming.
The rest of the country has been scratching our heads… because markets have been essentially FINE. A mild cooling in sentiment, a minor pull back in some areas, ongoing moderate growth in others. The rest of Australia has a remarkable boring set of graphs behind it and no real indicators for a wholesale crash.
Anyway… the Royal Commission is now DONE. For all that smoke, for all the fear and doubt, was there fire?
Well yes, & no.
What do you need to know?
For brokers, the R.C. news is essentially BAD:
The broking industry copped the worst of the suggested reforms, despite never having been named as the problem or the main reason for the commission in the first place. This is in my opinion immoral, unjust and unwise. It will reduce competition simply playing into the hands of the banks over time.
To all the quality mortgage brokers I know, and their families…. Also for the hundred's of clients I have worked with who love the impartial advice they get from their brokers I am very sorry, you have just been shafted.
Expect to see profit margins and market share for big 4 bank loans to increase and a return to the Orwellian days of going cap in hand to the bank for a loan over the next few yrs. Expect to see some of the 2nd tier lenders disappear which was the intention of the banks in this all along. I have no evidence Hayne was paid millions by the banks and I am not normally a conspiracy theorist but wow its hard not to be suspicious after the other day. Share prices for the big 4 ALL up, share prices for mortgage broking houses DOWN 30% (in about 1 hr!). Stockbrokers always know what the real news is first.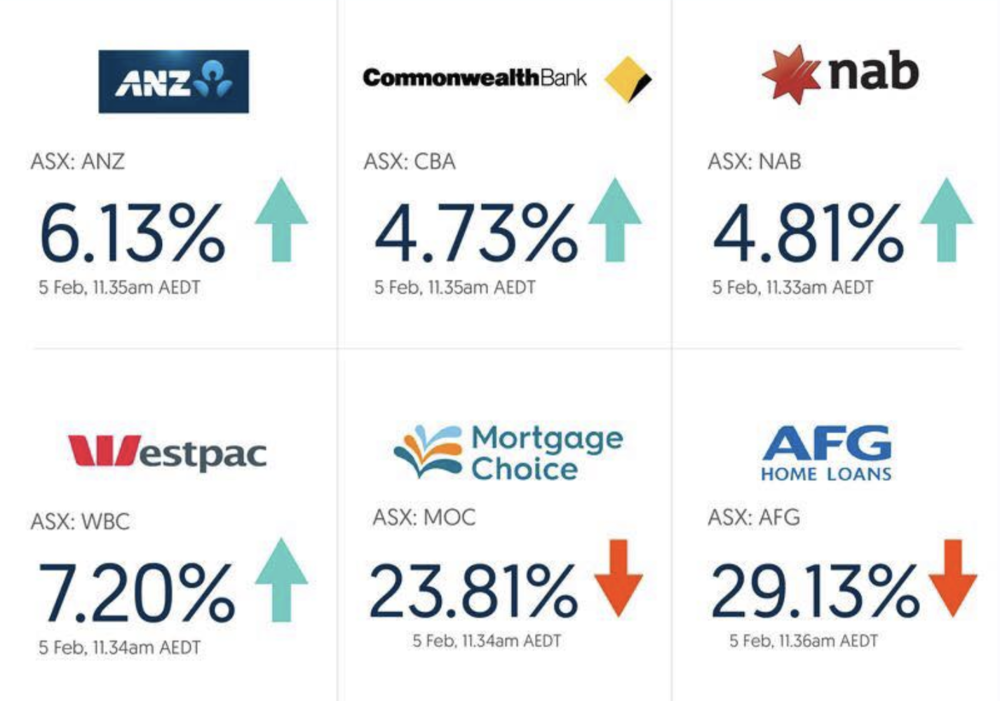 For investors however, the R.C. news is essentially a sigh of RELIEF:
Therewere NO instructions for banks to further tighten their lending practices in Kenneth Hayne's final report into the finance sector with the Sydney and Melbourne booms already having stopped. Safe lending has been accepted and the potential collapse of our housing industry has NOT been red flagged.
"I consider that the steps … taken by banks to strengthen their home lending practices and to reduce their reliance on the HEM – are being taken with a view to improving compliance with the responsible lending provisions of the NCCP Act," Mr Hayne wrote in his report.
To be clear, HAYNE DOESN'T think we are headed for a GFC style housing collapse as per the USA in 2007/8. Despite the media calling like hyenas for the complete implosion of our entire housing industry, this is not likely according to Hayne's statements.
As has been stated many (many) times before, we have some of the tightest lending criteria in the world. We have some of the lowest default rates in the world. We have a love of property ownership and we are committed to owning our own homes.
So… perhaps the national property market (apart from a few overpriced high-rise towers of course) will now get on with life?
What does this mean for buyers?
Well, lending will go on. Government restrictions for investors are being lifted. Banks share prices are up today. The finance industry knows the R.C. is a green light for lending. Over coming years banks may dominate brokers but loans will still be there.
AND.. in May 2019 we have a federal election, after which time the grandfathered negative gearing and capital gains tax benefits will be impossible to get. Assuming Labour win, which most analysts are convinced they will.
So, this means the clock is now ticking…and its 11:59 if you want those tax advantages.
On the ground investors now have 9-11 weeks (depending on the exact date of the election) to get a property under contract if they wish to protect their tax rebates for years to come before the nation votes. After that the assistance of negative gearing and a reduced capital gains taxation rate will be gone.
Gone for good. Gone.
BUT it is important not to rush out or buy rubbish properties. Highrise towers, units in our cities are clearly on the nose and do NOT offer any investment returns for investors in this market. Please please please, the off the plan towers are the one part of the market that could have more pain ahead, so be very careful.
We have always said PUT PROFIT before TAX. That hasn't changed.
What to do?
Be boring:
70% of Aussies have always wanted to own their own home with a piece of dirt. This is still possible if you look at the numbers, and not the shiny wrapping. Just don't pay millions for it in falling capitals, its too risky. Be boring and consider buy cheaper homes that the majority of Australians can afford in sensibly priced areas with strong rental markets. Fall in love with sensible numbers, not pretty new units and glossy brochures.

Follow the money:
Certain regional markets offer huge infrastructure spending which will benefit local economy, local jobs, and local house prices. They will buck the trend of the major capitals.
Watch the retirees and digital nomads:
It is important to choose areas to invest that are IN DEMAND with local owner occupiers AND have growing populations of people arriving every month as well. There are KEY COASTAL markets within a few short hours of Sydney (to the north and the south) and other markets in northern NSW that are getting the bulk of the baby boomer relocations and savvy digital and mobile workers who are moving away from the big smoke and arriving in lifestyle destinations ready to telecommute. (yes this is a well documented GLOBAL trend now and it is gaining pace)
Cashed up buyers are STILL quietly buying quality beach homes on the coast outside our cities for top dollar. You might be surprised but its true.
Seek quality:
To be held in tension with point 1… buy affordably but buy the best quality you can. Freestanding homes on good sized blocks of land in owner occupied areas are less risky and will outperform compared to newer units in oversupplied locations/ overpriced capital city markets. As Mark Twain said "buy land, the're not making it anymore"
Negotiate hard:
This is not a time to pay too much. Educated buyers are making strong but low offers right now and getting high quality properties for less money. Us Buyer's Agents are like pigs in mud in the current market as we get to negotiate harder and get better outcomes than in recent years.
Make sure you have a team you can Trust:
The R.C. Highlighted the worst of the banks behaviour precisely because they are supposed to be trustworthy. That is why we are so upset at them.
Never has having quality advocates on your team been more important. Whether it is a broker, a fully independent Buyer's Agent or a Solicitor – check them out thoroughly and ensure they are set up to represent your interests and protect you from lemons, sharks and dodgy properties.
Action vs inaction – it is up to you but as Warren Buffet said: "Be fearful with others are greedy and greedy when others are fearful". This next 2 month window could be the truest that statement has ever been for Australian real estate.
Considering buying before the election? Please read our most recent article "6 Things to consider if buying before May 2019"
Considering buying at all? Our gift to you is the 14 point "Property Buyer's Cheatsheet" 14 things you must do to avoid painful and expensive mistakes.